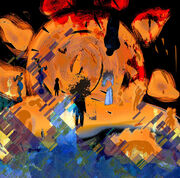 Sunsetters is an underground progressive rock band that have released many albums in different canons.
Discography, by canon
Blind Man's Book
Throughout the canons of Rapture, Topography Genera, and Nine is God, the Sunsetters' discography is mostly consistent. These depictions are the basis for Eric/DJay's collaborative albums under the Blind Man's Book metaname, whose pages are linked under their respective entries.
An album of nine songs with a heavy emphasis on metal and introspection.
A rock opera about apocalyptic summer. Over an hour and a half of content in five songs, thirty-three total movements.
We Excavate
In some canons the third album, in others the fourth, this is an album with a heavy focus on the water. Presumed to have a lot of EAT.
No Entry
In some canons the fourth album, in others the third, this is a rock opera with glitch aesthetic. Little is known aside from this, and that the Ancestor EP immediately precedes it.
The Eight Colours Trilogy
In Rapture's fifth draft, this is given as the fifth album. Subject to change.
Aleph Null
In Viceking's Graab, this is given as the sixth album. Subject to change.
No Entry
No Entry is referenced heavily throughout Metropolis Jumble, mostly in connection to the cow train and by extension the Pendulum. It's unknown if this is the same as or similar to No Entry from the Rapture Cycle.
L'égaré II
Very little is known about L'égaré II at the moment other than the fact that JACKIE of Twinge considers it to be one of the greatest albums ever made.
Trivia
Gallery
Community content is available under
CC-BY-SA
unless otherwise noted.