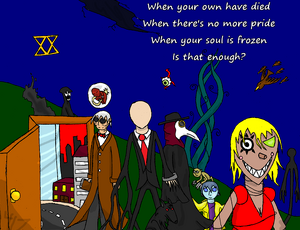 The Great Game Verse is a setting created by Seann "Lizard Bite" Barbour. It is one of the oldest verses in the mythos, and is considered by some to be the basic Fear verse template.
Blogs in the Verse
The following works are set in the Great Game Verse:
Central Concepts
There are a number of concepts that define this setting:
The Great Game itself: The Fears all play an incredibly convoluted game using humans as the game pieces
The Multiverse: There are infinite realities and, due to Dimensional Bleeding, information from these realities can intertwine. The GGV is merely one of these realities.
The Looming Threat of Annihilation: The Quiet is a looming threat that slowly expands across the multiverse. It was created when the Fears of one universe fought and tore a hole in reality. That hole grew to become the Quiet. This is why the Fears use the Grand Game; because fighting each other outright will lead to their own destruction. The Quiet's growth is also what causes Dimensional Bleeding.
Portrayal of Fears in the Great Game Verse
In the GGV, the Fears are portrayed as beings far beyond the scope of human comprehension. Certain traits are assigned to specific Fears which they may not necessarily exhibit in other settings.
Community content is available under
CC-BY-SA
unless otherwise noted.